Hey y'all!
Today's post is gonna be in English. Why? Honestly there is no other reason than me just feeling like it. It might be because this post is inspired by a small presentation I had to hold in a class during my year in the US. Our job was, to find something that we are an expert in, no matter what it was. People chose planning a trip, being a nurse, becoming an au pair or just presenting their home country. I chose what seemed to be the closest – watching four kids. Without getting crazy. At least most of the time.
For all the new ones: I was an au pair for one year. I was living with a family with four kids – triplet boys at the age of four and their older sister that was six. To be honest, there were good days and there were bad days. Sometimes it was me who had a bad day and sometimes it was one of the kids who has a bad day, but we've made it through all of those. Maybe because of the following tipps.
1. Make them listen to you
This seems to be an easy and obvious one but at the same time it's also the most important one. The kids have to know that it's you who is the boss, and not them. Part of this is that you have to hold all the threats you're making. Better think about them before you say them than realizing that it's hard for you to put them through afterwards. If you say there isn't going to be a video before bed time, there really shouldn't be a video and if you say that they won't get dessert (my best one!!) there really shouldn't be any.
2. Act as a team with other persons of authority
No matter if you're an au pair, a nanny, a teacher or a parent – I think it is always very important to build a team with the other persons of authority in the kids' life. At least the kids should believe so. They shouldn't be able to play the mom off against the dad or the other way around. The rules and values you try to teach the kids should be about the same. Communication is the most important part here, everyone should know about what is going on and how to handle different kind of situations regarding the kids. The kids will not be able to respect every single one of you if they know that you don't support each other and have each other's backs.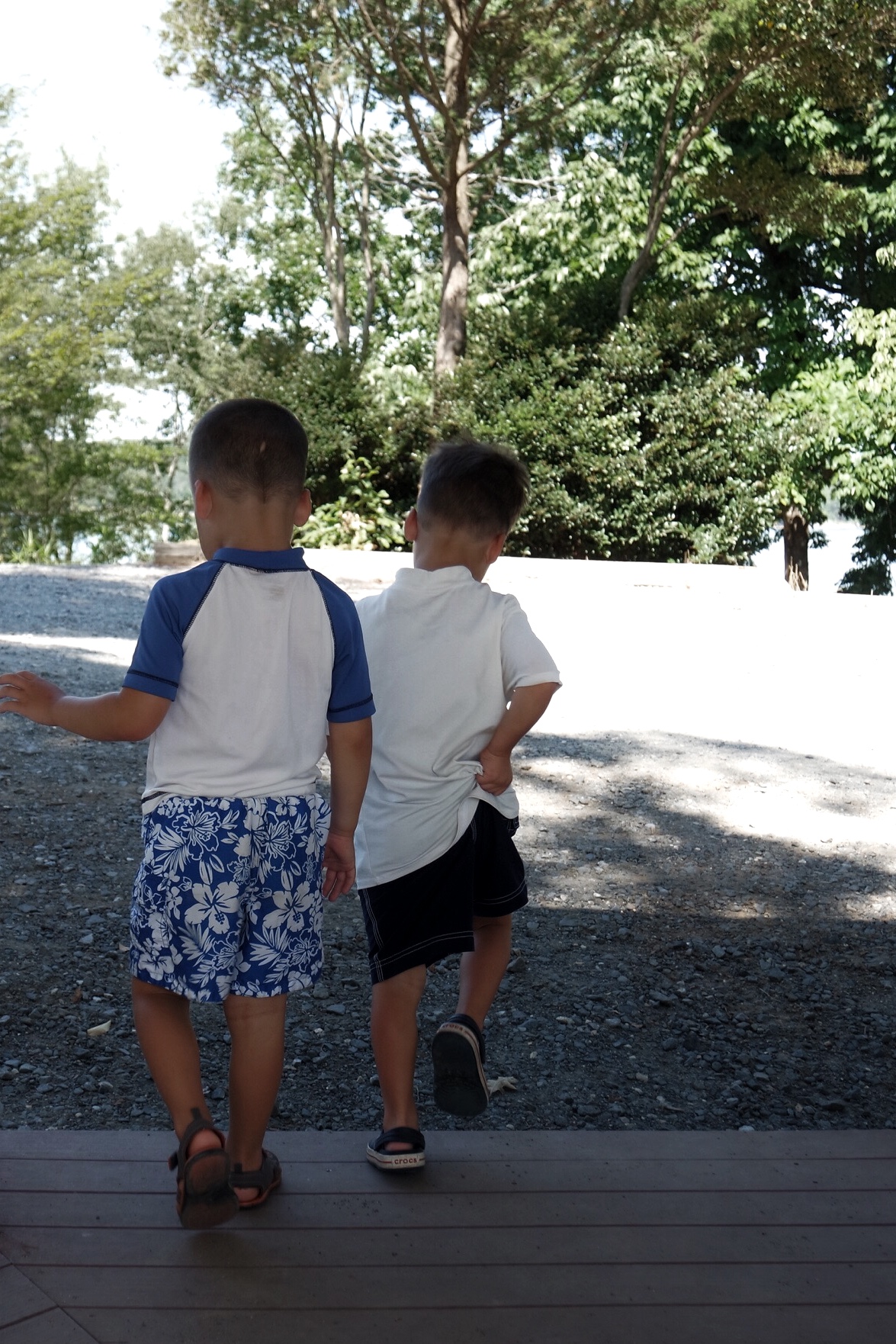 3. Take your time with everything
In the end it doesn't really matter if your trip to the grocery store takes 15 minutes longer. It makes it so much easier if you aren't stressed and take your time with everything. Also: plan in some extra time for getting ready with the kids, because you know the will try to button their shirts and tie their shoes themselves. If you know that you got 15 minutes extra you are much more relaxed about them taking more time and trying to do everything themselves which, in fact, is a really good thing (even if it makes you crazy sometimes).
4. Give yourself some time
This isn't just important for you but also for the kids. As an au pair, my host kids and I had a special time of the day that we called quiet time. I actually don't know if this is a common thing or not, but for us, it meant that between 2 and 4pm the kids had to entertain themselves. Sometimes they were in separated rooms to calm down a little bit and sometimes they had some playtime all together. During this time they did things like colouring, puzzles or playing with Legos. While they learned to entertain themselves, I had some time to do laundry, calm down or prepare some stuff for the later afternoon – all of these things while it's quiet (more or less).
5. Build up a routine
I really don't know why I've put this on in fifth place because I think it's by far the most important one. Everything is just so much easier if there is a routine. As soon as we were on vacation or didn't follow our daily routine for some other reason, the kids just didn't know what was going on anymore.
This is the same in case you are a new person in the kids' life. For example if you're the new au pair for the kids. Don't expect them to follow your rules and routines right away because the are not used to that routine yet. As soon as they got to know your way of handling things they will know what to expect in certain situations and will act and react in a totally different way.
6. Accept bad days
There isn't much else to say. Everybody got them them sometimes, the kids and you.
7. Talk to other people in the same situations
No matter if it's just for complaining and getting someone to feel sorry for you or for actually getting some advice. I'm sure there are other nannies, teachers or moms in your circles that can relate to you. I used to do this a lot and every time I talked about what was bothering me, I felt better afterwards, no matter what reaction I got from the other person. Even my hostmum and I talked a lot about stuff like that and I could tell, that it helped her just as much.
8. Let them be part of your life
As a caregiver this one can be hard sometimes because the kids' parents might have special expectations about what you are supposed to do with the kids but if you can, just let them participate in your life sometimes and not the other way around. For a kindergartener it is actually very useful to help writing a grocery list. – What do we need for dinner? What things are about to go empty in the pantry? Or cleaning the house. "My" kids loved spraying Windex around and wiping all the chairs, tables and counters. Also: You don't have to spend every single day at the playground. The kids I took care of enjoyed an afternoon at the mall just as much (at least!). Maybe you shouldn't let this be the normal case but for sometimes it's a really nice change. By the way – my kids loved riding the escalator a hundred times in the end as a little treat.
9. Have fun
This one can be separated into two different tipps actually. First: Try making all the duties fun. For example the kids and I created a song about brushing our teeth and created a game that included cleaning up. That makes it so much easier for you to get them do it and they don't consider it a duty anymore. The other thing that helped me was to actually join the kids when they are having fun. Sometimes I sat on top of the slide, right next to them, when they were having a ball, instead of sitting on the bench further away. Or I coloured with them instead of just sitting there. Through this, I had just as much fun as the kids.
10. If all of this doesn't help
Put all of them in a room. Lock the door. Leave the house. Never come back.
I hope you enjoyed reading this post and maybe it even helped you if you're in a similar situation to mine last year.
Hopefully see you soon! – Helen